Frequently asked questions about Toronto
What top attractions are a must-see in Toronto?
The must-see attractions in Toronto are:
Bata Shoe Museum

Little Canada, Toronto
What are the best tours in Toronto?
What are the best day trips and excursions from Toronto?
The best day trips and excursions from Toronto are:
Niagara Falls, Canadian Side
What are the best tours to do in Toronto with kids?
What are the best outdoor activities to do in Toronto?
The best outdoor activities to do in Toronto are:
What are the best indoor activities in Toronto for rainy days?
The best indoor activities in Toronto for rainy days are:
What are the best inexpensive tours in Toronto?
These are the best activities when you are visiting Toronto on a budget:
What are the best deals and discounts on activities and attractions in Toronto?
These are the best deals and discounts on activities and attractions in Toronto:
What are the most popular museums and exhibitions in Toronto?
These are the most popular museums and exhibitions in Toronto:
5 best day trips from Toronto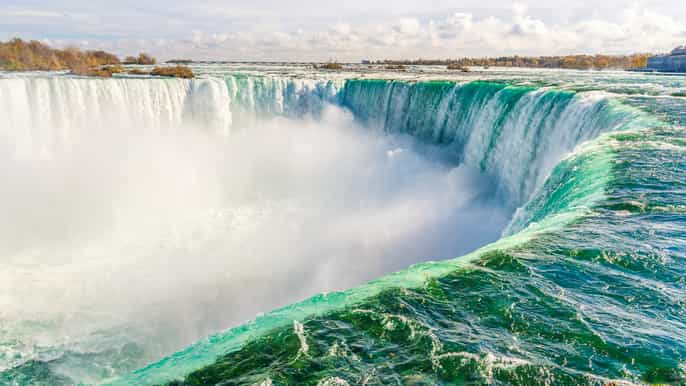 1. Day trip to Niagara Falls
An internationally-known landmark, Niagara Falls is one of the most popular day trips from Toronto. People come from both sides of the border to bask in the beauty and power of the falls. All in all, about 30 million people visit every year. The three falls, Horseshoe, American, and Bridal Veil Falls, provide plenty of vantage points to admire the natural beauty of this place. Don't forget to reserve a spot ahead of time for a chance to get soaked on a boat ride.
How far is Niagara Falls from Toronto?
Niagara Falls is situated 128 kilometers (79 miles) around Lake Ontario from Toronto. By car or bus, the journey lasts just under 90 minutes with no traffic. On the train, the time increases slightly to a bit over two hours.
2. Day trip to Hamilton
Head to the steel town of Hamilton for a calm excursion away from the metropolis of Toronto. With over 130 cascades in and around the city, Hamilton claims itself as the waterfall capital of the world. Visitors to this lakeside town can also tour the Royal Botanical Gardens — the largest botanical gardens in Canada, measuring in at 980 hectares (2421 acres).
How far is Hamilton from Toronto?
Only 68 kilometers (42 miles) from Toronto, Hamilton is easy to reach. Whether you go by car, train or bus, the trip will take around an hour.
3. Day trip to Caledon
For those wanting to get out to the countryside, venture out to Caledon and get a taste of the rural life. The largest settlement by area in the entire Toronto area, there's plenty to discover in town, like exploring the otherworldly Cheltenham Badlands or learning about World War I aviation at the Great War Flying Museum. Art-oriented travelers will enjoy the Alton Mills Art Centre, with its focus on the local art scene.
How far is Caledon from Toronto?
The 60 kilometers (37 miles) from Toronto to Caledon is easy to reach by car in just 45 minutes. If traveling by public transportation, the bus is your best bet. The trip takes just over two hours.
4. Day trip to Lake Muskoka
A true nature lover's paradise, Lake Muskoka offers wonderful recreation all year long. During winter, enjoy activities like cross-country skiing and dogsledding. Come summer, the lake takes center stage for fishing, watersports, kayaking, and more. When you need a rest, activities around the lake include visiting the pioneer village and train of Muskoka Heritage Place or riding on one of the Muskoka steamships. In the winter, head to Santa's Village where they welcome holiday revelers.
How far is Lake Muskoka from Toronto?
At just under 200 kilometers (124 miles) from Toronto, leave plenty of time for your travel to Lake Muskoka. Driving is your best option, taking around two hours. The bus can take up to one hour more.
5. Day trip to Cobourg
If you're searching for scenic small-town Canada, a trip to Cobourg is the perfect choice for the day. For history lovers, the town offers sites like the Marie Dressler House or the Sifton-Cook Heritage Center, which is the oldest building in town. Frolic in the water at Victoria Park Beach on the shores of Lake Ontario. If you're lucky, you may be able to watch the annual dragon boat races on the lake.
How far is Cobourg from Toronto?
Whether you make the 117 kilometer (72 mile) journey by car or public transportation, it will take anywhere from one to two hours, depending on traffic and schedule.
Toronto day trip FAQ
What are the best transportation options for my day trip?
No matter where you choose to head for your day trip from Toronto, there is always an ideal mode of transportation within reach.
• Toronto day trips by train

Though there is plenty of rail service in Canada, many trains may not reach some less-frequented destinations from Toronto.

• Toronto day trips by bus

For many day trips, the bus may be the quickest and most affordable option. Bus travel times tend to be just slightly longer than going by car. Many guided tours will operate by bus as well, with some even including pickup from your hotel.

• Toronto day trips by car

Having your own car is an excellent way to embark on a day trip. Make your own schedule, customize your itinerary and take your time as you explore the area around Toronto.
---
Should I take a guided tour for my day trip?
A guided tour is an ideal way to maximize your day trip. A tour guide can give you information and fascinating facts about your destinations that truly elevate your outing.
---
What should I pack for my day trip?
Many guided tours will provide you with just about everything you need for the day, from transportation to food. However, travelers should plan ahead for the seasons. Make sure to bring warm clothes for the chilly Canadian winter and plenty of water during the summer.
---
What people are saying about Toronto
I recently had the pleasure of joining your Niagara Falls tour and I wanted to express my sincere appreciation for the wonderful experience I had. As someone with limited time in Toronto, the early morning departure time was ideal for me, and I appreciate your company offering this option. One of the main reasons I chose See Sight Tours was because of the small group size. I was pleased to find out that there were only four of us on the day of my tour, which made for a more intimate and personalized experience. I appreciated being able to ask questions and interact with the guide, Joaquim, more easily. Speaking of Joaquim, I cannot praise him enough. He was an excellent guide, attentive, and knowledgeable without being overbearing or annoying. He provided fascinating insights about the Niagara Falls, the surrounding area, and its history. Lastly, I was deeply grateful when Joaquim offered to drop me off at my hotel even though it was not located in the downton area.
Smooth pick up and day. Were given 3hrs to explore the park (if you didn't have any other tours booked). Was plenty of time to walk around and take pics. After leaving the park we stopped at the Floral clock and the power station. Also had a stop at the Maple Leaf Place on the way back which included a tasting. Our guide Kaleb was well organised and the trip was well commentated as he shared a lot of info about Toronto and Canada in general.
Incredible experience definitely I will recommend it. Please choose the 130 dollars experience. The lunch with the view of the waterfalls is an unforgettable moment. I did the helicopter ride too with the reduced price also recomendable. The tour guide was unbelievable thanks so much!
Kahed is truly a King as a guide. Even if the comments are in English it is a mine of information on the region. The visit to the site as well as the activities are magnificent. Recommended +++
Kaleb was a very enthusiastic guide. He knows a lot about Toronto, its history and its traffic ;) We loved the journey. Maybe it would also be nice to taste the ice wine he talked about.