Popular Bike Tours in Sausalito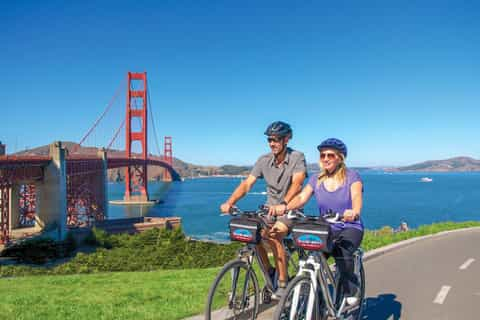 San Francisco: Exclusive Bike, Beer, and Boat Tour

San Francisco: Muir Woods, Giant Redwoods, & Sausalito Tour
Duration options: 4 - 5 hours
Free cancellation
Cancel up to 24 hours before your activity starts for a full refund.
What people are saying about Sausalito
I had a great time on this tour. I went with my boyfriend and another couple. We're all in our early 40's in various levels of fitness. This was a great ride for all of us. There were a few hills we had to go through but my friend and I just walked it. The guys were able to bike up. But our tour guide Steve was patient and didn't rush us. I loved going around the city and learning about it's history. Steve was very knowledgeable, easy to talk to and entertaining. We all clicked with him right away. It was more like we were in tour with a friend leading us.
Kevin was a great guide, knowlegable in the history of San Fran and a passion for biking. I would do this every time I come to San fran. I did the sunset tour, biking over the Golden Gate Bridge....incredible.
Fun, exciting and enjoyable! If you're not an avid cyclist I recommend the power bikes, they help get you up some of the steep hills you'll come across.
It was everything I expected. Beautiful weather too. Get your guide is a great way to tour any city.
The tour guide was so knowledgeable. Perfect amount of time at each stop! Great experience