Popular Stag do in Paris

Paris: Beer Bike Bar With Drinks Included
Small group

Duration: 1 hour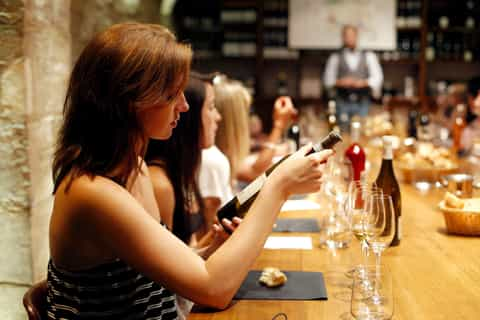 Paris: French Wine Tasting Class with Sommelier

Paris: 1.5-Hour Eiffel Tower Beer Bike Tour
Private group

Duration: 1.5 hours
Free cancellation
Change of plans? No problem. Cancel up to 24 hours before your activity starts for a full refund.
What people are saying about Paris
The location was great, as well as the selection of wines. The sommlier was engaging with a phenomenal personality & knowledge base. I would say, the information is more for beginners and overview is extremely breif about regions and varietals (but to be honest France is large and there are thousands of vinyards, impossible to cover in depth in an hour). Having an extensive knowledge base from working in the wine industry for the US, I always feel any opportunity is one to learn from, however, besides a few wine facts from the French perspective, I cannot say it was significantly informative for wine geeks. In other words, if you want to have a great time and try some delicious French wines, go! If you already know quite a bit, just sit back and enjoy the tasting :) it's a tasting foremost, and not a class. I enjoyed it as a last hurrah in Paris.
Learned a lot about wine, guide was fun and very knowledgeable.
My daughter and her fiancee did the tasting first and enjoyed it so much my husband and I decided to try it. We both enjoyed it as much as they did. Get the additional cheese plate it was yummy too. My husband's hard of hearing, the guide let him sit next to her, made a great experience. I definitely recommend this tasting.
This was a fun and informative introdcution to French wine.
This was a highlight of out visit to Paris. Remy was excellent and had a wonderful presentation of the regions and wines of France. He was very knowledgeable and a lot of fun. We had an interesting and excellent selection if wines to sample. Overall this was an outstanding early evening event.
Our sommelier was so very knowledgeable and made us all feel very comfortable. We learned so much about the regions of France and their wines, how to correctly read a wine label and were able to taste a variety of wines and champagne. Highly recommend this experience to anyone visiting Paris!
My very first wine tasting class.... loved it!! Emily was very knowledgable, funny put also professional. Learned so much. I really appreciated that she had patience for a novice :) i highly recommend the meat and cheese option to balance the 6 glasses of wine!! So glad we went!