Oslo Opera House: Tours & Tickets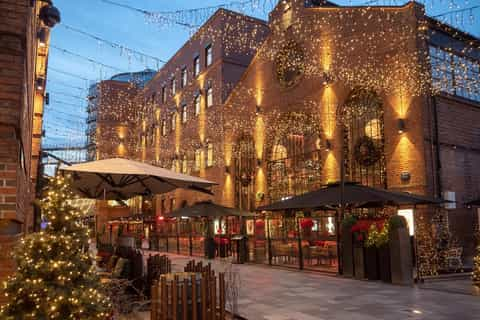 Oslo: City Highlights and Christmas Markets Walking Tour
Small group

Duration: 2.5 hours
Free cancellation
Change of plans? No problem. Cancel up to 24 hours before your activity starts for a full refund.
What people are saying about Oslo Opera House
Excellent value to discover Oslo's main sights
Very good walking tour in the center of Oslo. We were lucky with nice weather and really enjoyed our guide's itinerary. She was very knowledgable about the city, its history and people. It was a small group (6) and we had a lot of fun along the way. We had a lot of questions and she had an answer to all. Tour ended in an awesome delicatessen shop, a real treasure trove!
Enjoyed HOHOFF and especially the boat ride.
The King of France was in town so traffic was awful in city center. Waited thru 3 stoplights just to move a foot forward. HOHOFF is the way to go to see the city. The lady commentator on the boat tour spoke in three languages. I was impressed. Get off at Nyven Canal and have a hot dog and beer. Much fun. Then hop back on and continue.
It was only me and the tour guide, so it was extra special to get into deeper conversation on Norwegian Christmas traditions. The guide was excellent, gave lots of information on history or places in general, also could show me a lot of nice instagram-worthy places. All in all I can really recommend this tour!
As we only had one full day in Oslo, decided this was the best way to see city sights and cover more ground than walking. Such a huge variation of sights. Paul was such a knowledgeable guide and the scooter riding great fun. Best guided trip ever!
Great idea and works well to get a sense of the city and highpoints.
Some of the stops seemed a bit disorganized, the site coordinator/ticket taker had no process for determining how many seats were available for new boarders. That should be an easy thing to track.