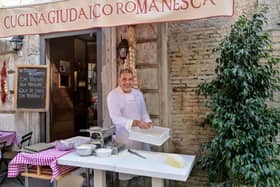 Mordechai s.r.l.s.
This activity provider is a trader on the GetYourGuide marketplace
Legal notice
Registered address

Via del Portico d'Ottavia, 65 00186 Rome Lazio Italy

VAT registration number

IT14669561004
Contact details
GetYourGuide answers all contacts on behalf of the activity provider
About the activity provider
Our Restaurant La Taverna del Ghetto is located in the ancient heart of Rome, at the Jewish Ghetto with its quaint alleyways and archeological monuments. The history of the Jewish Ghetto, loved by the Roman locals, is amongst the more ancient of the world and also today tells us about the habits and traditions of the Roman-Jewish people. You can enjoy the typical restaurant ambience or dine outdoors in summer.
Mordechai s.r.l.s. offers tours and activities for these attractions:
Mordechai s.r.l.s. offers tours and activities in these cities:
Things to do organized by Mordechai s.r.l.s.