Popular Food & Gourmet Tours in Jerusalem
Free cancellation
Change of plans? No problem. Cancel up to 24 hours before your activity starts for a full refund.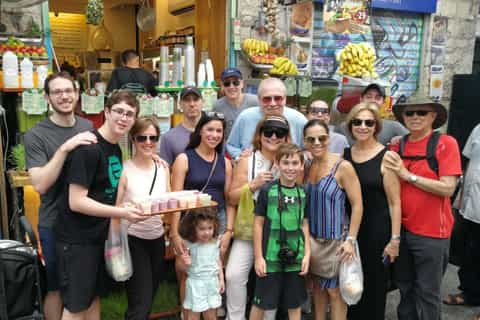 Jerusalem: Guided Culinary Tour of Mahane Yehuda Market
Small group

Duration: 3 hours
Top Attractions in Jerusalem
Things to Do in Jerusalem
What people are saying about Jerusalem
Thank you Abraham Tours for our Jordan 3 day trip. We have loved the experience and certainly Petra exceeded our expectations. What an amazing place! Pictures do not do it justice. Wadi Rum is just spectacular and we are now left with memories that will be cherished forever. Our tour guide, Abdullah was friendly and very knowledgeable. Food was great and coach very comfortable. Bedouin camp standards are basic and if you are not a frequent camper you might struggle with basic facilities. There was no heaters provided in tents and during winter season this should be a standard in each tent. No hot water in the morning... No hooks or shelves to put your things on when taking a shower resulted in personal belongings getting wet. Nevertheless, Jordan is an amazing country and I would highly recommend taking this tour but pay for a hotel upgrade if you do mind basic camping standard.
A memorable trip seeing wonderful architecture.
I initially booked wanting to see Petra only, but I am very glad the tour also took us to Jaresh and Amman. The recovered past civilisation buildings are terrific, and the guide, Emad was knowledgeable, and engaging. The Bedouin camp was very different to staying in a hotel, but I liked it. Petra is terrific, and the rest of the tour was very interesting. Remember to bring Jordanian money, as there is no access to money changers or an ATM when you leave the Israel/ Jordan border.
This was a fantastic tour! Our guide, Rania, was very knowledgeable about every site we saw, and our driver, Mustafa, was friendly and efficient. The Bedouin camp was amazing, and the lunches we stopped for were also excellent. The only thing I would note is that you need to have 107 NIS for the Israeli exit fee and at least 60 Jordanian dinars (or US equivalent)—there is no ATM at the border as some people on our tour were told.
The whole tour was fascinating, and we were lucky with timing so didn't have to queue at the Church of the Nativity. Tamar is very knowledgable and informative as a guide. I found the separation wall to be particularly emotional. I'd recommend this tour to anyone.
Great tour with a delicious lunch at the impressive house of the guide
Kamal impressed with his historical & religious knowledge of the area. State-of-the-art bus. Delicious lunch. Can only recommend this tour from Israel as it balances the view one gets from the conflict of the two sides.