Temple of Jupiter: Tours & Tickets

Pompeii 3-Hour Walking Tour
Small group

Skip the ticket line

Duration: 3 hours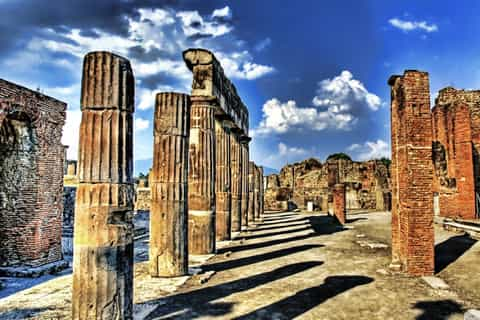 Pompeii Ruins 2-Hour Guided Tour from Sorrento
Skip the ticket line

Duration: 2 hours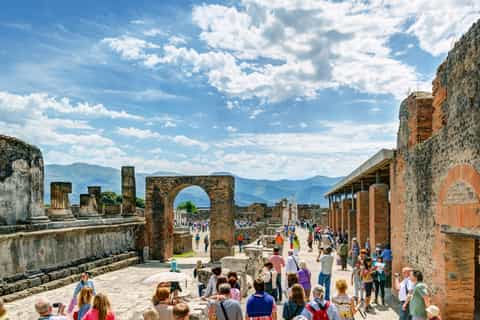 From Naples/Sorrento: Pompeii & Capri Full-Day Private Tour
Small group

Skip the ticket line

Duration: 8 hours
Free cancellation
Change of plans? No problem. Cancel up to 24 hours before your activity starts for a full refund.
What people are saying about Temple of Jupiter
Tour guide good - organization average to poor
Through the previous helpful rating comments I could tell more about this tour than the actual description of it. The description in my opinion should tell you that you are only picking up the tickets in Sorrento and that you then take the train by yourself. Arrived in Pompei we had to wait for 40min (they told us 20) for the tour to start. So I am not sure why you actually have to choose a time for it, because it anyway seems fairly random to me. They just wait until they have a bigger group together. And the group was big. Over 20 people. the most important thing though is, that the tour itself was really good. It was really at least 2 hours long (counting from the time you actually leave with the guide) and the tour guide was funny and knowledgeable. So at the end it was worthwhile.
This was a fantastic tour. Michele was an outstanding guide and told us so many interesting things about Pompeii. He was knowledgeable and passionate about the site and it came through in his presentation. We we're met early and the 3 hours flew by. I can't imagine seeing Pompeii any other way. Without Michele's knowledge and insight we would have missed so much of what was literally right in front of us or under our feet.
Great tour and time after to explore yourself
We had transfers to Pompeii from Sorrento included and this made it very easy as the ticket office is next to the train station. Guide is very informative and goes at a leisurely pace. Takes you to all the major places of interest and at the end of the tour suggests other sights in Pompeii that you may wish to see yourself. All in all a great tour for a small cost
Daniella was delightful- she really engaged with our pre-teen daughter who loves Roman mythology, bringing her into the conversation and including her. Her imaginative detail helped bring Pompeii's ancient people to life for us, and breathed life into the stones of the ruin. Recommended for families especially!
Paolo was excellent, exceeded our expectations, we highly recommend hi
He was very knowledgeable of the ruins, knew everything little thing and was very responsive to our questions and get everybody engaged in the tour. He kept our kids interested at all times
Top Attractions in Pompei
Cities in Italy