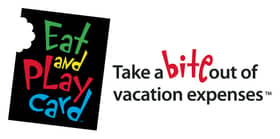 Eat and Play Card enhances vacation experiences. Not only does it help people save money by providing exclusive access to savings across the full range of in-destination vacation expenses, including dining, attractions, entertainment, shopping and more, it also helps visitors answer the difficult questions they often experience when overwhelmed with choices upon visiting new cities: "where should we eat?" and "what should we do?" In 2009, months of research identified 10 flaws common to other savings programs and coupons that leisure travelers dislike and greatly limit their use. We listened to people and designed Eat and Play Card to mitigate each of these flaws. In doing so, Eat and Play Card became the "anti-coupon" designed with the typical leisure traveler in mind. We focus on partnering with household names and local favorites that people know and love and are usually located in convenient areas where most tourists typically stay and play. The "anti-coupon," there are no annoying restrictions such as minimum spend requirements or blackout dates, it can be used repeatedly over 30 days, and entirely % discounts off of the total purchase (often including alcohol), for up to 4 people, ensure unlimited savings potential. There is no other program quite like it. Incorporated in 2009, Eat and Play Card launched its first destination – Orlando – in January 2010. In May, 2011 New York City was launched. Now, Eat and Play Card has some 250 participating merchants and distribution in more than 25 countries around the world. The Chicago Tribune has called Eat and Play Card a "gateway to deals" and the West Australian has said "Eat and Play Card is a must for families."
Eat and Play Card Inc. offers tours and activities for these attractions:
Things to do organized by Eat and Play Card Inc.