Popular Local Food in Dubrovnik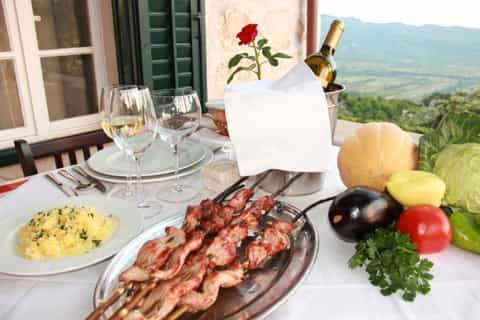 Traditional Dalmatian Cooking Class from Dubrovnik
Private group

Pickup available

Duration: 5 hours

Dubrovnik Traditional Food Tour
Pickup available

Duration: 4 hours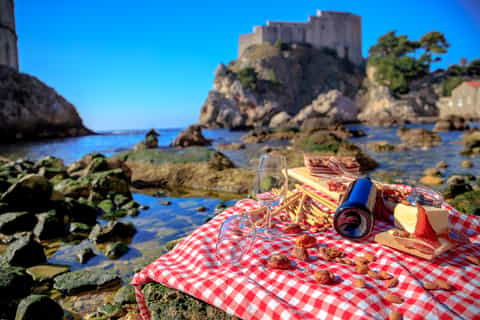 Dubrovnik Gastronomy: 3-Hour Food and Wine Tour
Small group

Duration: 3 hours
Free cancellation
Change of plans? No problem. Cancel up to 24 hours before your activity starts for a full refund.
Top Attractions in Dubrovnik
Things to Do in Dubrovnik
What people are saying about Dubrovnik
Excellent experience with wonderful people. Recommended.
A great day. There were only the two of us on our cooking class which was fabulous. We were picked up at our apartment in Dubrovnik for the drive south to the family farm where the class was held. On the drive our wonderful driver provided a lot if info on the areas we were driving through including historical details from Roman to more recent events and current farming developments. Upon arrival we were welcomed by our delightful hosts as if we were friends dropping in for regular visit. We prepared our food in the kitchen talking and working with various family members who came and went. The farm come restaurant is mostly self sufficient growing almost all the food they need from eags, meat, vegetables, fruit, olives (they make their own olive oil) and grapes. And, yes they also make their own wine and spirits. Cheese is sourced from a cousin living nearby. The family proudly shared their history (they've been there since at least 1536) and how they maintain their way of life.
Very enjoyable day in Dubrovnik with Ana, learning about food & drink!
The tour was extremely well organised and helped us get our bearings on day 1 of our holiday. Ana also gave us a really interesting insight into the history of Dubrovnik which was a nice addition between meals. We were a nice small group at only 5 of us, which made it easy to chat altogether. It was very smooth as we arrived to every restaurant and nice to have the choice between red or white wine at each location. They seemed like really well chosen restaurants – my only grumble is that the food was quite similar at the first 3 (selections of fish, meat and cheese) and would've liked something hot! However, it did give us a lovely taste of what great food Dubrovnik has to offer. Ana was great to answer any questions and give her recommendations on places to go for food & drinks as well as other top tips for the city. She also kindly sent through a list of everywhere we visited and where else is good in the city. A great welcome to Dubrovnik and a fantastic tour, thanks Ana!
What a brilliant way to spend an afternoon!
Such a great way to explore a new place.. Using all of your senses! I've always been a big believer in food (and wine!) Being all part of the travelling experience. When combined with learning about culture and history.. What could be better? Our guide Ana was incredibly friendly, knowledgeable and helpful and even followed up our tour with a handy summary of what we had to eat and drink, along with some other recommendations for the rest of our trip. Absolutely superb and thoroughly enjoyable!
Exceptional experience, making Dubrovnik my favorite city!
We got Anna as our tour guide. She is very informative and insightful about the history of the town. It was not only the food and wine tour but was an enjoyable city walk in itself. She showed us nice spots for nice views and restaurant as well. The food is REALLY big portion, so come hungry. We made 4 stops and each you get to taste both food and wine and everything was really good. This tour deserves to be known and all the praises! We LOVED everything about it.
The food spots were excellent. A glass of wine is provided at three of the four stops and alcohol is offered at the last with cake. The amount of food is relatively light but it's good for trying different things at each restaurant. Maria explains a lot of extra things about Croatia that we didn't expect to get on a food tour. It was very interesting to hear what Croatians eat and how they prepare their meals. I would definitely recommend!