Popular Ghost & Vampire Tours in Dublin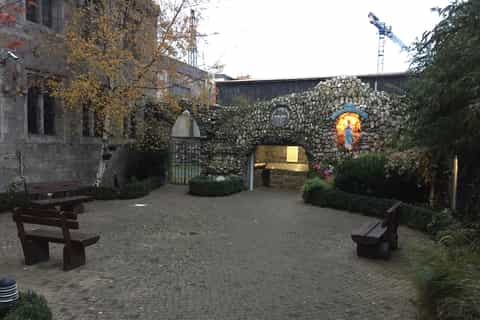 Dublin: The 7 Wonders of the City Exploration Game and Tour
Free cancellation
Change of plans? No problem. Cancel up to 24 hours before your activity starts for a full refund.
What people are saying about Dublin
This innovative way of exploring Dublin is ideal for anyone who doesn't really like following tour guides and big crowds around a large area. I went with my sister (both in our early 30s) and had only a few hours to spend in the city, so this interactive tour was just what we needed, as it combined a thrilling story with major tourist attractions! The overall distance was easily walkable, by the way, and, since we happened to take the tour around Christmas time, we particularly enjoyed the beautiful lights and decorations around the city. The only problem we faced was the unexpected rain (we had booked many days in advance) which enhanced the spooky feeling of the story behind the tour, but forced us to cheat on the first and last question-riddle by using help from the Internet (sorry!), as we really needed to avoid going some extra distance! Overall, it was a very nice experience and we would definitely recommend it to small groups of friends (2-3 would be just perfect).
Went on the tour with Shane, Amy (?), and Sean. Shane was an excellent and hilarious tour guide and my friend and I thoroughly enjoyed his storytelling! The whole team worked hard to make sure everyone felt engaged and comfortable and were very professional and enthusiastic about their roles. The atmospheric bus was excellent, and we enjoyed the stories about the spots picked out for the tour. Only reason this isn't a 5-star rating is because we were a little disappointed that we never got to go inside any of the haunted spots we stopped at except the pub, which was beautifully historic and well-worth the visit, but it would have been nice to actually be able to walk through some of the locations.
This tour came highly recommended from a local I met at a pub. My best friend and I had a great time! The guide (dressed in full plague victim garb) was not only funny, but he really knew his history. And if people want to call it corny/cheesy.. hey, I get it. But the guide has a job to keep the guests engaged and entertained. And that's what the guide did! Do this tour, because without it, there's a lot of cool spots around Dublin you may not see on your own. :)
Amazing tour. The guides were incredible. You can tell they enjoy giving the tour by their enthusiasm. I have been to other tours whereby the guides just sound like an audiobook going through the motions. The guides we had on this tour were wild and weren't afraid to make jokes off the cuff which kept everyone on their toes. Whether you are looking to learn history or just be entertained I'd definitely recommend it.
Absolutely hilarious, interesting and of course... terrifying! The actors/guides were not only terrifying; they were also really friendly and welcoming. The information was really interesting, I would certainly recommend this