5 best day trips from Budapest

1. Day trip to the Danube Bend (Szentendre, Visegrád, Esztergom)
The
Danube Bend
is overflowing with activities to offer day trippers from Budapest. Stop at quaint Szentendre, a former Serbian enclave exemplified by Belgrade Cathedral, and stroll through the old town. This area doubles as a thriving artist colony, which means there's no shortage of browsing opportunities. Peek into Szentendre's many galleries and studios located in converted mills and factories and inquire after artisan wares at local market stands in its small squares. When you get hungry, there's no shortage of Hungarian delicacies and regional wines to sample. If you're looking for a perfect vantage point, climb the hill to Visegrád, a 13th-century castle town with a stunning view. Next, visit the Renaissance Palace ruins for some open-air history. Be sure to spot the country's largest basilica at Esztergom, and then ramble the forested chalk cliffs and caves at nearby Pilis Mountains.
How far is the Danube Bend (Szentendre, Visegrád, Esztergom) from Budapest?
Depending on where you go, the trip could be as close as 21 kilometers (13 miles) or as far as 51 kilometers (31 miles) away. Generally, a trip to the Danube Bend can be as quick as 40 or 50 minutes on a high-speed train or an hour by car.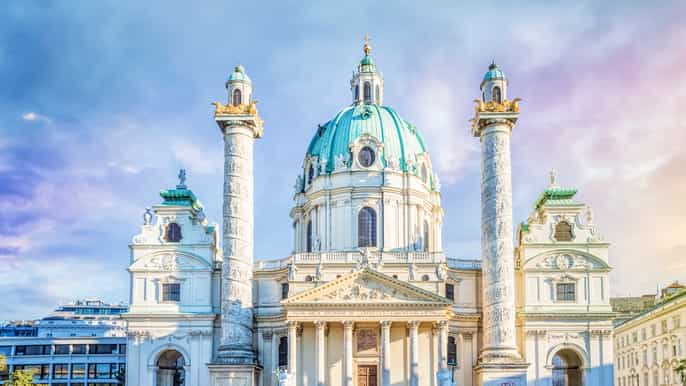 2. Day trip to Vienna
Once the seat of power for the Austro-Hungarian Empire,
Vienna's
proximity to Budapest gives travelers the opportunity to explore the city's rich and refined history. Walk, bike, or scooter on a tour through the abundant historical sites and buildings in the old town — and don't forget to taste a real schnitzel. Visit the Natural History Museum where you can encounter relics and sculptures dating back to the city's founding under the Roman Empire. If you're looking for more recent Art Nouveau works, head to the Leopold Museum. With roughly three dozen classical music concerts held each day, it's easy to experience Vienna's dedication to Mozart and his peers with your own ears. Simply visit any one of the city's numerous churches, concert halls, parks, and squares. For caffeine lovers, Vienna's coffee culture is peerless, so don't miss a chance to sip a café melange.
How far is Vienna from Budapest?
At 242 kilometers (150 miles) away, make sure to leave plenty of time for travel. By car, the trip takes two and a half to three hours on average. A direct train will take 2 hours and 40 minutes, while a transfer will make travel time a little over 3 hours.
3. Day trip to Gödöllő
As the favorite residence of Hungary's 19th-century royalty,
Gödöllő
is home to the second-largest Baroque palace in the world. Wander around the opulent public spaces and see the decadent private rooms of Queen Elizabeth and her husband, King Francis Joseph. Once you've had your fill of palace intrigue, explore the neighboring countryside and traditional farms of the region. For lunch, order a savory scone, called a pogácsa, and a shot of pálinka liquor to unwind before heading to watch a traditional Lipizzaner Horse show.
How far is Gödöllő from Budapest?
Fifty minutes by car, or an hour plus journey by train and then connecting to a bus.

4. Day trip to Eger
Red wine flows freely in the city of
Eger
, where the cellars are cut into the solid rock below the colorfully named Valley of the Beautiful Women. On the southern edge of the Bükk Mountains, Eger offers a chance to hike, climb, cycle, or ride horses. See if you can identify all 17 Baroque churches, including Eger Basilica and St. Anthony, and the Turkish minaret that gives the city its distinctive skyline. Other popular things to do in Eger are visiting the 11th-century Castle Eger, dipping into one of the traditional thermal baths, and peeking through the camera obscura inside the Great Tower overlooking the city.
How far is Eger from Budapest?
Eger is 139 kilometers (86 miles) east of Budapest. The trip will take you an hour and a half by car or just over 2 hours by train and bus.
5. Day trip to Balatonfürd
A popular resort town on the shores of Balaton, Central Europe's largest lake, Balatonfürd is a popular destination for relaxation outside of the city. Called the "Hungarian Sea," Balaton features historic waterfront cafés and restaurants, with small shops spread out across town. If you're looking to get out on the water, rent a boat. For a more adventurous experience, take a ferry or boat tour to nearby Tihany Peninsula where you will discover a Baroque abbey and a stunning panoramic view from twin extinct volcanoes.
How far is Balatonfürd from Budapest?
While the 135-kilometer (83 miles) journey only takes an hour and a half by car, traveling by combination of train, tram and local bus will take you just under 3 hours.
Budapest Day Trip FAQ
What transportation options are best for my day trip?
Cars, trains, and buses are all great ways to traverse the scenic region around Budapest. In some cases, you will have to switch from a regional train to a local bus to reach your final destination.
• Budapest day trips by train

Unique among the day trips being offered, you can reach Vienna via a direct high-speed train that offers scenic views from the window. Other day trips like Balatonfürd, Eger, Danube Bend, and Gödöllő can be reached via regional Hungarian trains before transferring to a local bus.

• Budapest day trips by bus

Local buses can be used for day trips to Balatonfürd, Eger, Danube Bend, and Gödöllő, but it will be considerably slower travel experience. For a more exciting option, consider booking a hop-on hop-off bus tour or guided tour of the day trip destination.

• Budapest day trips by car

In many cases, taking a car will be the fastest option for travel around Budapest. Go around at your own pace and take in all the stunning scenery Hungary has to offer.
---
Should I take a guided tour for my day trip?
Depending on where you're going outside of Budapest, taking a guided tour might be your best option for both travel and learning about your destination. Having somebody lead you around cities like Vienna or Gödöllő will give you additional insights into the local history and enrich your trip.
---
What should I pack for my day trip?
Many destinations around Budapest will be in rural Central Europe's mountains, valleys, and river plains, so you should wear comfortable shoes and clothing good for walking and hiking.
---
Top Attractions in Budapest
Cities in Hungary
What people are saying about Budapest
We would definitely recommend this trip to people who would like to see 3 towns in 1 day. Although we were not able to see every single detail of each town, we were able to have a glimpse into the 3 towns. Our tour guide was brilliant and was full of information and fun facts for us about every place we visited. The lunch had a great view on top of the mountain with large portions, we were definitely full after the 3 courses! The only downside to the trip was we wished we could have spent longer in Szentendre as we were only there for 1 hour, although as Budapest residents we will be able to visit again. We would really recommend this trip!
I had a wonderful experience because I was the only one on the tour, and my guide Zoltan thoroughly educated me on the history of each region and ensured that I saw everything important and special.
The Village was beautiful!! Our tourist quide Attila was perfect show to us everything that we need to see!! We have a great time!
Great trip, in one day explore the most interesting places around Budapest. the guide was excellent and very kind.
Excellent tour in historic area of city with free time to explore on our own. Lunch was delicious!