Frequently asked questions about Brisbane
What top attractions are a must-see in Brisbane?
The must-see attractions in Brisbane are:
Lone Pine Koala Sanctuary
What are the best tours in Brisbane?
What are the best day trips and excursions from Brisbane?
The best day trips and excursions from Brisbane are:
Tamborine Mountain
What are the best tours to do in Brisbane with kids?
The best tours to do in Brisbane with kids are:
What are the best outdoor activities to do in Brisbane?
The best outdoor activities to do in Brisbane are:
What are the best inexpensive tours in Brisbane?
These are the best activities when you are visiting Brisbane on a budget:
5 best day trips from Brisbane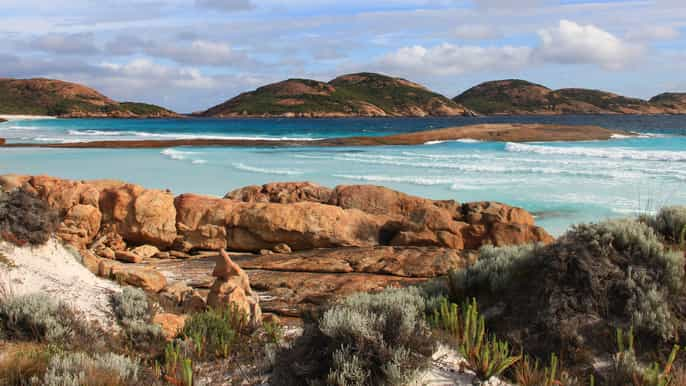 1. Day trip to Fraser Island
Immerse yourself in Australia's diverse natural heritage on Fraser Island. This sand island is actually the largest in the world. Travelers come to the island to see the red and yellow sands, explore the rainforest, and swim amidst the dunes in Lake McKenzie. The idyllic 75 Mile Beach is a hot spot for fishing enthusiasts, while Indian Head at the end of the beach is the perfect spot for panoramic views.
How far is Fraser Island from Brisbane?
Plan on leaving early to make the 350-kilometer (217-mile) trip from Brisbane to Fraser Island, By car, the journey to the ferry takes three and a half to four hours, while the train takes about five hours. The ferry from Hervey Bay to Kingfisher Bay on Fraser Island takes 50 minutes.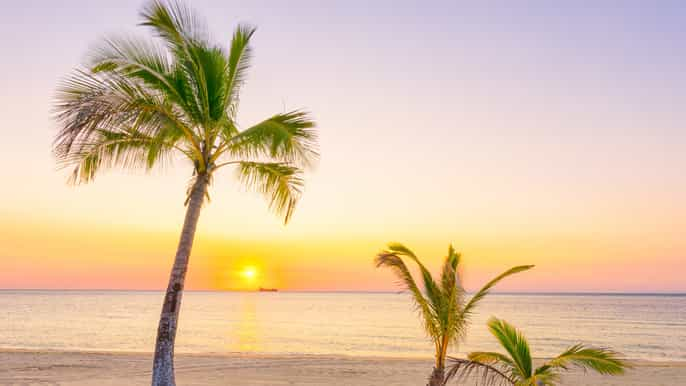 2. Day trip to Moreton Island
Get in some rest, relaxation, and recreation during a day on Moreton Island. Settled in Moreton Bay, this island is a popular retreat from the city. The island is best known for being home to the Tangalooma Island Resort, which has day use facilities for travelers. But there is more to do on the island than just spending time at the resort, like exploring the massive Moreton Island National Park. Within the park, people can see wildlife, visit the WWII buildings of Cowan Cowan, or check out the Cape Moreton Lighthouse.
How far is Moreton Island from Brisbane?
The only way to reach this island 40 kilometers (24 miles) off the shores of Brisbane is by boat. There are multiple ferries — including vehicle ferries — every day, with varying departure and arrival points. The ferry direct to Tangalooma is 75 minutes.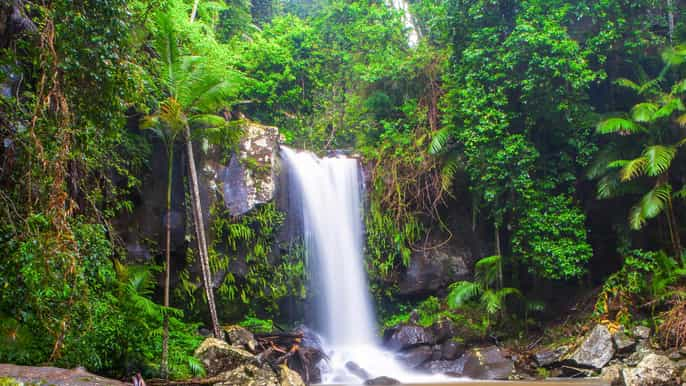 3. Day trip to Tamborine Mountain
A day trip from Brisbane to Tamborine Mountain is a wonderful way to discover the natural wonder and beauty of the area. Adventurous folks can experience the Tamborine Skywalk through lush rainforest canopies and past rushing waterfalls. Art lovers will adore Mount Tamborine's well-known gallery walk. Don't miss a chance to visit the enchanting Glow Worm Caves, where the ceilings shine like the stars.
How far is Tamborine Mountain from Brisbane?
Tamborine Mountain is located just 74 miles (45 miles) south of Brisbane. Driving takes about an hour and 15 minutes. There is no direct train or bus service. A combination of the train and taxi takes about 90 minutes, while a combination of several different buses takes around two and a half hours.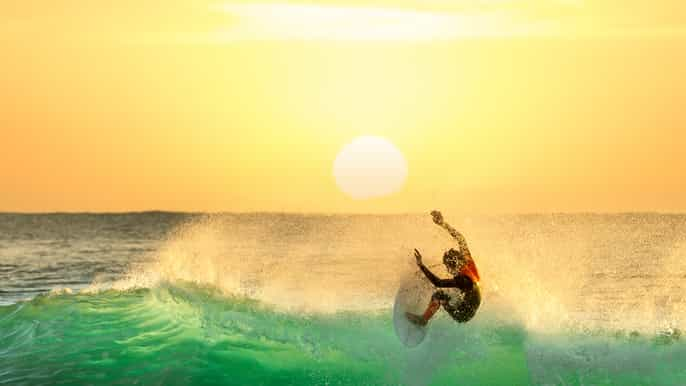 4. Day trip to the Gold Coast
Head to the Gold Coast for a day of surf, fun, and sun. Fans of watersports will get a thrill out of this seaside city famous for its surfing and beaches. The Gold Coast is also filled with theme parks, ranging from Warner Bros. Movie World to Sea World, and Dreamworld — Australia's largest theme park. To get more up-close with the native fauna, at Currumbin Wildlife Sanctuary you can feed a crocodile or have a koala encounter.
How far is the Gold Coast from Brisbane?
It only takes an hour to drive the 77 kilometers (47 miles) south from Brisbane to the Gold Coast. The train takes just under two hours. There is no direct public bus service from Brisbane to the Gold Coast.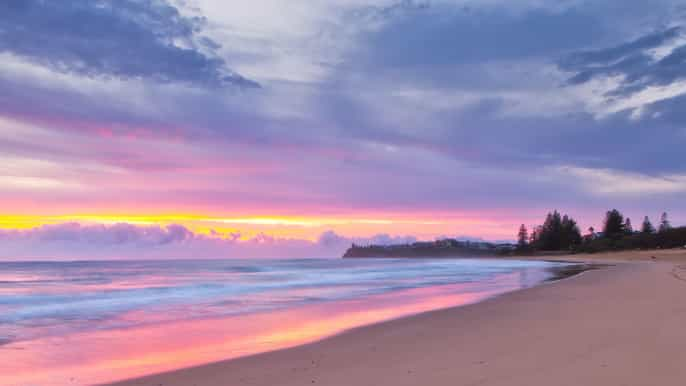 5. Day trip to the Sunshine Coast
There is so much to see and do on the Sunshine Coast, it's the perfect day trip for anyone. The area welcomes millions of visitors every year who come to enjoy its national parks and cultural offerings. See the wildlife at Steve Irwin's Australia Zoo, hike around Glass House Mountains National Park, and find something special at the Eumundi Markets.
How far is the Sunshine Coast from Brisbane?
The main city of the Sunshine Coast is about 100 kilometers (62 miles) north of Brisbane. The train from Brisbane Central station to Nambour station takes 90 minutes, while driving to the Sunshine Coast takes about the same.
Brisbane day trip FAQ
What transportation options are best for my day trip?
No matter where you're going, there are plenty of different ways to get from place to place in Australia. The best choice for you depends on your travel style and what you want to see.
• Brisbane day trips by train

Making your journey by train is a convenient and scenic way to get around. Though some routes may take longer, the experience of taking the train around this majestic continent is unforgettable on its own.

• Brisbane day trips by bus

Though certain local or public buses may take a bit longer than driving, often you will find the travel times are fairly even. The bus is almost always the most inexpensive option and allows you to get a more intimate experience than speeding past on a train. The majority of day trip guided tours are conducted on buses.

• Brisbane day trips by car

A car is always a great idea for those who want to be in control of their own transportation. You can reach any destination without worrying about bus schedules and transfers. Keep in mind that for some destinations reached by ferry it may be necessary to park and leave your car on the mainland.
---
Should I take a guided tour for my day trip?
Taking a guided tour is a great idea for those looking to explore new places or dig a little deeper into their destinations. A tour will often plan out your whole day, sometimes even picking you up from your hotel.
---
What should I pack for my day trip?
Your packing list will depend on the activities you have planned. Be aware that Brisbane is very hot and the sun in Australia burns. Sunscreen for the beach is highly recommended, while sturdy shoes, swimwear, and water are crucial for visiting national parks and the less populated areas around the country.
---
Top Attractions in Brisbane
What people are saying about Brisbane
It was our first time and we plan on visiting again. Everything was on time and staff went the extra mile for the safety of my son who rode for the first time. They were very patient. Beautiful day!
A great day from start to finish. My teenagers highlight of our trip. Lunch was lovely, snorkeling was great, boat itself nice. Friendly staff.
Eclectic interesting activities. First rate service due to an attentive and engaging crew and an impressive boat.
Nice staff and great experience doing snorkeling kayak and surfing in the desert! Recommend
It wasn't the best weather day but the trip was made to be absolute fun.