Popular Culture & History in Caminito del Rey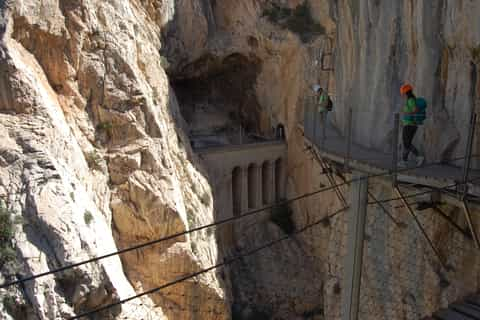 From Costa del Sol & Malaga: Caminito del Rey Guided Tour
Duration options: 8 - 9 hours
Free cancellation
Cancel up to 24 hours before your activity starts for a full refund.
What people are saying about Caminito del Rey
The trip was a great way to see this amazing spot. Pick up was easy. Susanna was a lovely guide. Explaining the history on the bus was a good use of time. Because she was explaining in three languages it was difficult to get all the history in. Along the trail we heard other tours talking about the Nazi connection and the railroad link. If there's not time to do this on the bus maybe while we are waiting at the restaurant. Going to the restaurant after the Caminito Del Ray was not a highlight for us as the trip home took so long, almost 3 hours because we had to drop everyone off along the way. I think going straight home would have been better.
Caminito del Rey is amazing, however definitely not for those who are afraid of heights. It is one of the best things I did during my time in Spain. The tour was excellent. Peter was a great guide and explained all about the region and the walk. I would definitely recommend this tour.
Amazing experience. A Must. Miguel our guide was really nice. There were a couple more of hiccups which were not his fault at all but handled them professionally and with a smile on his face. It's a long drive from Seville but definitely worth it.
fantastic day and well organised. loved it and would recommend it. It isnt difficult, all ages were there and you can go as slowly or quickly as you like. Plenty of places to stop and sit and take it all in.
Great place to visit - worth the trip. The coach was very comfortable with a friendly guide.